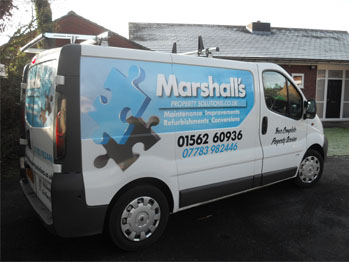 My name is Daniel Marshall and I am the owner of
Marshall's Property Solutions.
I am a fully qualified civil engineer with a HNC in Civil Engineering and the Built Environment and I also have A-Levels in Graphic Design and Technology.
My working background before civil engineering was in loft and garage conversions and property development. I worked on many different types of loft  and garage conversions for two different company's and it was during this time where I began to learn different skills in the building trade like carpentry, plumbing, building alterations, roofing, tiling, painting, plaster boarding and much more.
All of these different skills helped me start my own property improvements, maintenance, refurbishment and conversion company. After being involved in different trades whilst doing property development and conversions, I then found myself involved with a building design and development company and I was involved in fitting kitchens in the Magnet showroom in Kidderminster and also supervising with the design and development of a new Hobbycraft store at Webb's of Wychbold in Droitwich. All of this was for a short period before I decided to take a step up in the construction world and join a civil engineering company based in London.
Throughout my five years with that company I worked on a number of different contracts as I advanced through the company from a chain man to an engineer and site supervisor. In the five years I worked on a number of different contracts assisting in all areas of design and build. My contracts varied from the civils and concrete structures work on Cabot Circus shopping centre in Bristol, to sewage treatment works for Seven Trent in Frankley, Birmingham, to groundwork's and drainage in Milton Keynes for a large housing estate, then onto earthworks for a new shopping centre in the centre of Bath, then onto another large retail design and build contract involving landscaping and roadwork's at Gloucester Quays then onto my final job which was to last 18 months doing a full package consisting of earthworks, structures, drainage, roadwork's and landscaping on Uskmouth Power Station in Newport, Wales.

Since I set up my company we have done a large amount of work for a number of domestic and commercial clients and we are going from strength to strength as we take on new contracts and gain a larger list of customers that are always returning to us to discuss new projects.